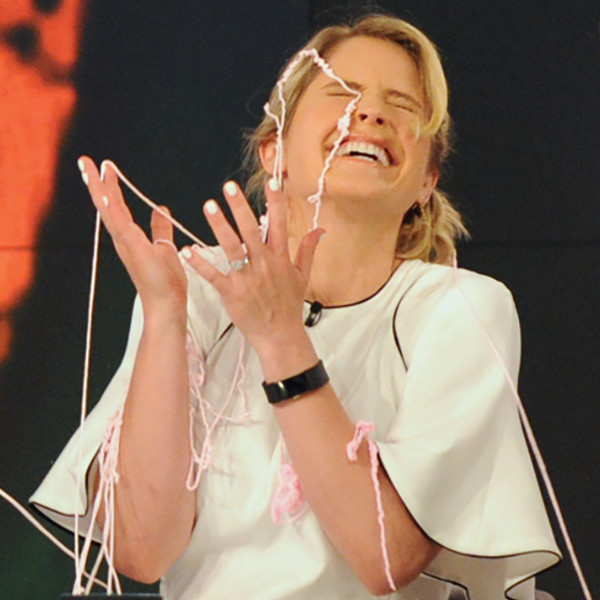 Sara Haines is ready to expand her family!
As "Hot Topics" kicked off Tuesday morning on The View, moderator Whoopi Goldberg revealed that somebody in the audience had some big news to share.
After anticipation, viewers learned that Sara was pregnant with her second child.
"You guys want to know what I'm having? It's a girl! It's a girl!" Sara shared with her co-hosts before being showered with pink silly string. "You guys knew. I've been having a rough time so I've had like crackers brought out to me and ginger ale."
She added, "To anyone that's been in the studio audience, you probably could have picked up on it as well."
After being congratulated by all the ladies including Joy Behar, Sunny Hostin and Jedediah Bila, Sara expressed how excited she was to raise a baby girl of her own.
"I was so excited, so excited," she shared. "I'm very much looking forward to it because I grew up with—I have a brother but I had two sisters. I think I'll get the female experience way more than the little boy experience." 
Sara and husband Max Shifrin are already proud parents to a 15-month-old son named Alec Richard Shifrin. In fact, the proud mom often shares stories about parenting and family on the morning show.
As for having two children close in age, Sara joked that one of her co-workers pushed her to move things along.
"Sunny warned me about the date on these eggs so I went back in," she joked. "I don't have the privilege of time. I'm an older mommy."
Congratulations to the couple on their big news!
The View airs weekday mornings at 11 a.m. ET/10 a.m. CT/PT on ABC.