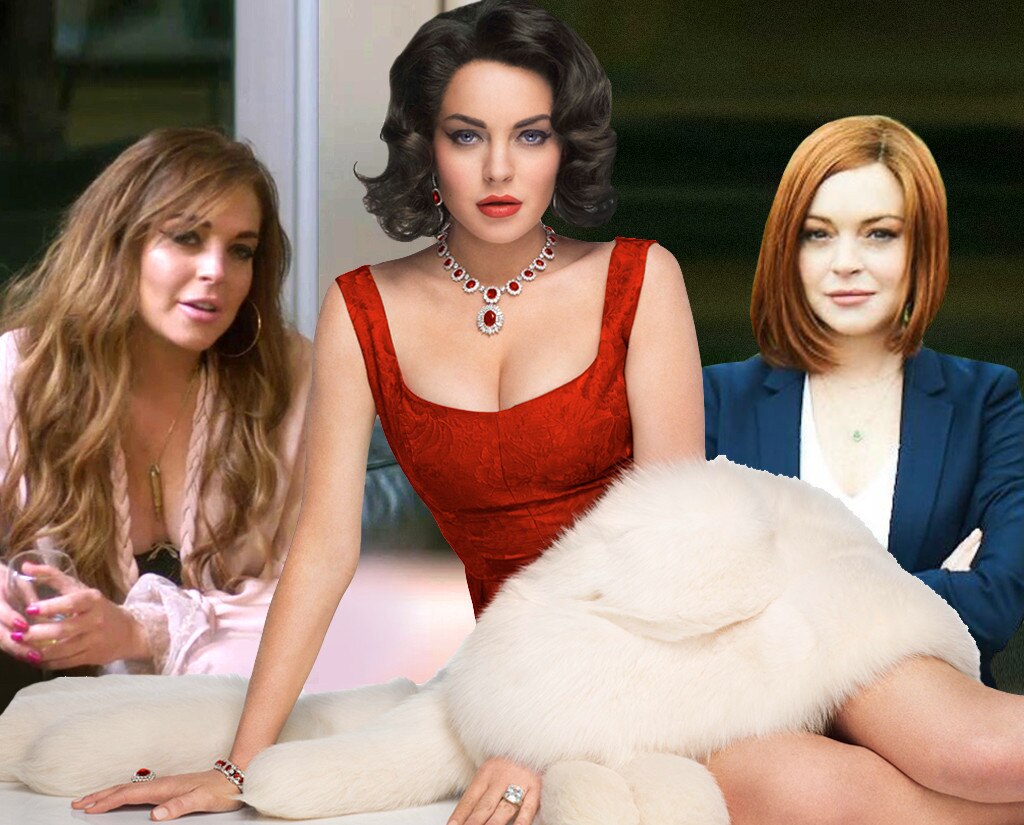 WME; Lifetime; Sky – E! Illustration
This week it was announced that Lindsay Lohan, ever the embattled on-again off again actress, would be making her way back to the screen. The star, who has been most notable as of late for her questionable accent and relationship drama, is set to star in the second season of the British comedy series Sick Note, which follows a man who is misdiagnosed with a terminal illness yet decides to keep up the lie among his family and friends, also stars Harry Potter's Rupert Grint. 
Aside from the obvious jokes about whether Lohan has renounced her American citizenship for good in favor of a land where she is free to speak with whichever inflection she so chooses, this news brings up the age-old question: Can Lindsay really stage a comeback?
This would seem, at first glance, to be the closest she's come to cementing a spot in the industry in years. The last real role she took on was 2013's indie The Canyons, with a cameo each on Eastbound & Down and 2 Broke Girls being the only time she's flashed her SAG card since. And more than just the morbid curiosity over what this casting means for her career is the very real issue of what it means to be responsible for putting her back onscreen in the first place. It could the greatest PR stunt in Hollywood or it could all come crashing down. 
First, a little bit of background on her recent career…let's just call them occurrences. The actress spent most of the late aughts getting into trouble on set, with problems ranging from late nights to missed call times to the inability to deliver her lines. She entered rehab several times and has had multiple brushes with the law. It seemed like any chance of occupational redemption was very slim, which was the exact point at which writer Bret Easton Ellis and director Paul Schrader swooped in to cast her in their psycho-sexual thriller The Canyons. 
That was supposed to be her big comeback. A grand gesture of mea culpa to all of Hollywood, proving that she did actually have the ability to live up to her extremely high potential. It was supposed to be a riveting, if unconventional, movie about a trust fund baby who finds out that his girlfriend and the lead of his new film project are in the midst of a torrid affair. It was supposed to buzzier-than-buzzy, putting the troubled Lohan alongside kind-of-famous-mostly-just-infamous porn star James Deen in a marquee made for the tabloids. Instead it was a total disaster.
What went down on the set of The Canyons is now classic Hollywood lore, the different twists and turns of which would seem to be something that could only have been written for a movie. To start, Lohan was fired before the movie even started shooting, a result of going AWOL during pre-production table reads. (She was, of course, given a second chance.) On an early filming day she executed what basically amounted to a jail break after she was told she couldn't leave for lunch. She was constantly late, and famously stayed out partying with Lady Gaga until 6:00 a.m. It took two months to convince her come back for re-shoots. The final product was widely regarded as a flop and the on-set shenanigans so absurd that they inspired several online tell-alls (like this from a New York Times reporter who was invited along for filming and this from the point of view of the producer). 
The risks associated with giving Lohan yet another opportunity for redemption are widespread. To start, there's the chance that the exact same disasters that went down during The Canyons (and the earlier Lifetime movie Liz & Dick, which saw her visiting the emergency room after a particularly wild night out, among other struggles). They cause delays in production, they lose the network or production company money and they give the project a very bad reputation. Even if the film or, in this case, TV show, is good, any news about Lindsay's behavior is going to overshadow the actual content and any positive reviews. 
Then there's the matter of insurance. This is a problem that has long-plagued the embattled star—in order to put out a movie or show, producers need to get an insurance company on board to cover any liabilities in filming. If a star is a wild card in terms of behavior (or following the letter of the law), no insurer is going to cover the project. In short, Lohan is very hard to insure. The only reason the team behind The Canyons was even able to cast her in the first place was that the flick's budget was so small that it didn't even require insurance (a loophole not often found in Hollywood).
Lohan isn't the first person to come to a career turning point, with her entire future and livelihood in the hands of others in the industry. The tale of the Hollywood comeback is an ancient one. But there are certainly those that demonstrate the potential rewards—and the fabulous fortunes that can fall on those who step up to give the industry's fallen a hand—better than others. The most impressive example is, of course, Robert Downey Jr.. 
Everyone who's ever so much as turned on an episode of Ally McBeal knows full well the up-and-down trajectory of RDJ's former life: rehab stints, arrests, firings and re-hirings and firings again. After he was kicked off the aforementioned FOX drama it seemed as though that was the last straw; most were convinced he would never work in Hollywood again. But a steadfast resolve helped put him in the auditioning room again and his talent made it all too tempting to those on the business end of movie-making. The major problem? Like Lohan's former self, he was completely uninsurable. In fact, it took the very very large wallet of good friend Mel Gibsonto bail him out of his predicament—Gibson personally underwrote Downey, Jr.'s insurance bond for their 2003 project The Singing Detective.
Production on that movie went smoothly and RDJ slowly began to prove to insurance companies that he was no longer a huge risk, but convincing the bigwigs at Hollywood studios was another issue. When the actor was in talks to star in a still-in-the-works superhero movie known as Ironman, director Jon Favreau found it incredibly difficult to talk the powers that be into hiring Downey, Jr. Favreau has told of being rejected by Marvel Studios several times in his conviction that RDJ was the correct choice creatively. 
That anyone would be against giving him the top spot on any movie now seems like a hilarious joke. It's clear today that the payoff was astronomical. RDJ's turn as Tony Stark made the studio billions, spawning sequels and spinoffs and breaking all sorts of records. It also made Robert himself a fair fortune: He's had several successive stints on Forbes' list of the highest-paid actors. 
Does this mean that if Lohan manages to stay out of trouble (and, more importantly, show up on time every day) during filming of Sick Note, she'll follow in the footsteps of Robert Downey, Jr.? Probably not But it does mean that there could be great rewards for the team behind the show if this role leads to a full-on comeback. They'll go down in history as the ones who gave Lindsay Lohan her big break. 
And if it doesn't work out? Well, they can commiserate with the team behind The Canyons.