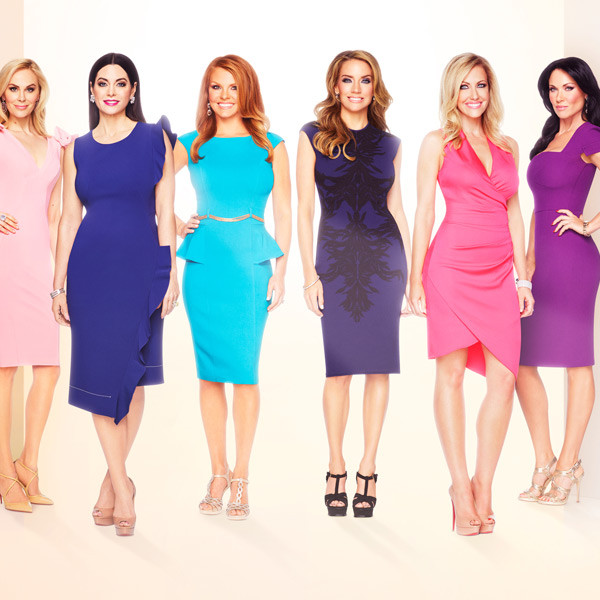 Giddy up, it's time to return to Texas for The Real Housewives of Dallas. In the new trailer below, your favorite Lone Star ladies are back and just as nutty—if not nuttier!—than ever. As if you needed something else to pique your interest, then let us off this: There's a hot dog costume argument, the "real-life Elle Woods," a dildo chase on the beach and feuding former best friends.
Brandi Redmond, Cary Deuber, Stephanie Hollman and LeeAnne Locken are back for another season and this year they're joined by D'Andra Simmons (OMG, wait until you see her sitdown with her mother in the trailer below) and Kameron Westcott, who Cary deems the "real-life Elle Woods from Legally Blonde." Kameron wants to make a pink dog food. Need we say more?
Stephanie and Brandi stole the show last year with their friendship, but this season the BFFs look like FBFFs (former best friends forever). What went down between them? From the trailer, it seems marriage gossip and comments. Yikes. "My best friend is not my best friend anymore," Brandi says.
And then there's LeAnne Locken. You'll remember last year the drama revolved around a story about whether or not LeeAnne pooped in her pants. She had many standoffs and from the looks of the trailer season two will be the same. That moment where she throws the glass!
LeeAnne also introduces D'Andra, who proclaims she's "not a typical wealthy Dallas housewife." "I'm pretty ballsy, " D'Andra says. "I'm not going to walk on eggshells around anybody, except for my mother and Jesus."
The ladies leave Dallas for Mexico, but don't worry, the drama follows them. And so does a dildo.
The Real Housewives of Dallas returns on Monday, Aug. 14 at 10 p.m. on Bravo.
(E! and Bravo are both part of the NBCUniversal family.)