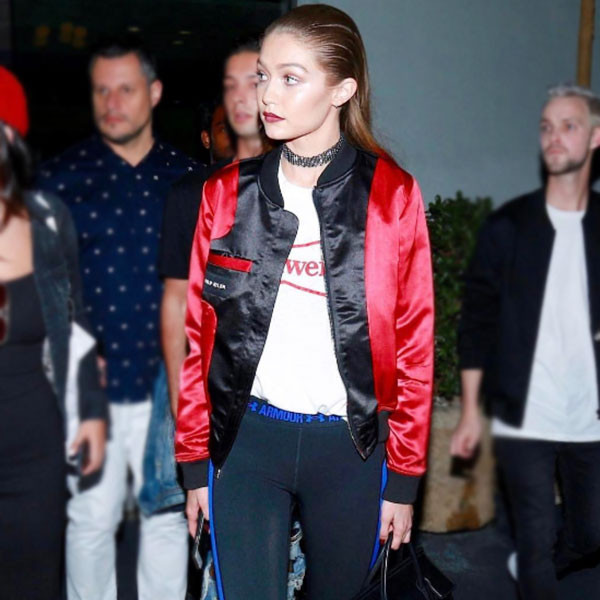 Happy Earth Month!
We thought we'd celebrate today by introducing you to six celeb-loved brands (you may not know yet) doing solid things for our planet. Basically, they're proof style is not sacrificed in the making of ethically-sourced clothes and accessories. 
First up, it's a favorite of Gigi Hadid's.
This jacket brand (which you might also recognize on the likes of VS Angel Lily Donaldson and singer Wizkid) uses recycled fabrics, once previously used and made by high-end designers like Chanel and Balenciaga, which automatically eliminates waste. The line repurposes the textiles and produces them into the stunning bombers on their site. The coolest part? Because each specific fabric is essentially leftovers, once it's all used up it's gone forever—making each bomber (almost) one-of-a-kind. 
This handbag brand (loved by style stars like Louise Roe) sells eco-friendly leather goods you should know about. It uses a responsibly-sourced and recycled hide—a by-product of the food industry—and partners with a like-minded tannery (which won the Green L.I.F.E award for research of innovative and sustainable solutions). It's a Malibu-based bag brand with an ethical approach to consumerism.
It's worth noting that Zoe's jewelry-making process is just as sustainable as the jewelry itself. Every piece is eco-friendly & sustainable, made entirely from recycled gold and conflict free diamonds. (Not to mention it's adored by celebs like Elizabeth Banks, Hailey Baldwin (see here) and Brittany Snow (see here).) Everything is made in her LA-based studio and held to the highest standards of social, environmental, and human rights practices.
Similar to Phillip Ayler, this dress designer only uses deadstock when creating pieces for her line, which are the residual fabrics left over from the larger fashion houses. So instead of joining the local landfill, these fabrics join the collection therefore making it eco-friendly. Once a certain pattern sells out, the same style of dress is made, just with a different textile. Oh, and Emily Ratajkowski's a big fan.
You may already be familiar with this brand, but it's time to get to know their Olivia Culpo-loved Supima cotton tee (the one she's wearing above). It's made with 100% American-grown Supima Cotton, making it super sustainable. Fun fact: Its long, fine fibers are smoother and softer than most fabrics, but incredibly durable and resistant so the tees can be worn and washed every day and still maintain their original color and softness.
It's time to start shopping smart.