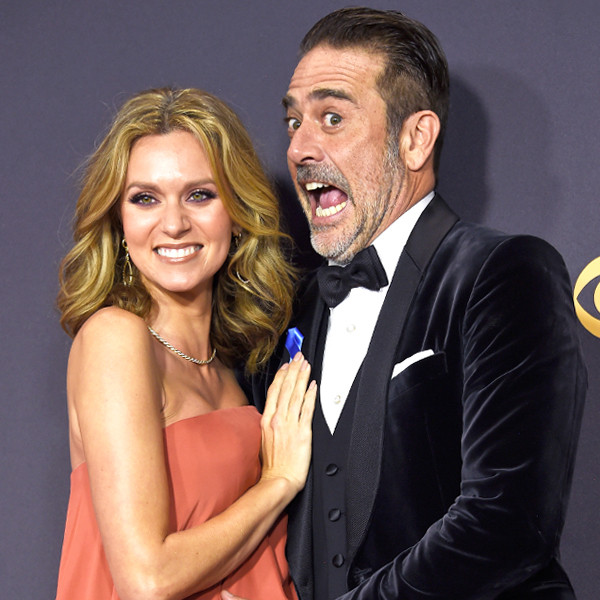 Someone just let the cat out of the bag and that someone is definitely Jeffrey Dean Morgan.
The Walking Dead actor, who is notoriously private, had quite the secret slip-up when he accidentally informed an entire crowd of people at the Supernatural convention in New Jersey earlier today that he and his lady love Hilarie Burton were expecting a baby girl. The duo have a 7-year-old son named Gus.
After his gaff today, the star threw the towel in and just fessed up ASAP. He took to his Instagram right after to out himself—before the rest of the world could. The not-so-smooth former Grey's Anatomy star (RIP Denny) had a good attitude when he shared a fan photo showing the exact moment when he realized he'd messed up.
The 51-year-old wrote, "Whoever took this picture?? Caught a moment… thank you. We shall cherish…. I texted @hilarieburton right after I spilled the little girl beans…and, as usual…she was a rockstar. After all these years she's come to expect me to be a dope… thank god she gets it, and loves me regardless."
He may have made a mistake but he clearly made up for it in the sweetest of ways…
Last week at the 2017 Emmys, Morgan basically outed his wife/hard-core hinted at the fact that the quiet couple was having baby No. 2. The clearly excited actor couldn't help but put his hands on his longtime love's barely there baby bump while on the red carpet, which essentially let the world know there was a bun in the former One Tree Hill star's oven.
After the Internet went crazy last Sunday night, a rep for Morgan confirmed the baby news on Monday morning. Today, Morgan needed no rep—only Instagram.
The two may not be a red carpet staple, but the under-the-radar twosome have been together since 2009. They secretly welcomed their son in March 2010.
The pair reportedly began dating in early 2009, shortly after The CW star split from assistant director Ian Prange.
Congratulations to the expanding family!