Law & Order is taking "ripped from the headlines" in a whole different direction with Law & Order True Crime: The Menendez Murders.
Creator Dick Wolf was on hand for NBC's portion of the 2017 TCA summer press tour alongside writer Rene Balcer, executive producer and director Lesli Linka Glatter, and stars Edie Falco, Miles Gaston Villaneuva, and Gus Halper to talk about the new series, and Wolf wasted no time in making sure we knew this series was not designed just to tell us what happened in the infamous murder case.
"This is taken from the headlines—and we've done some great shows taken from headlines, but this is on a different level," Wolf said.
"It's also the only time we've had sort of a collective agenda."
Wolf promises that the research that was done for the new series revealed "things none of us knew," and said "Your mind is going to receive a lot of information that I think will change a lot of people's attitudes."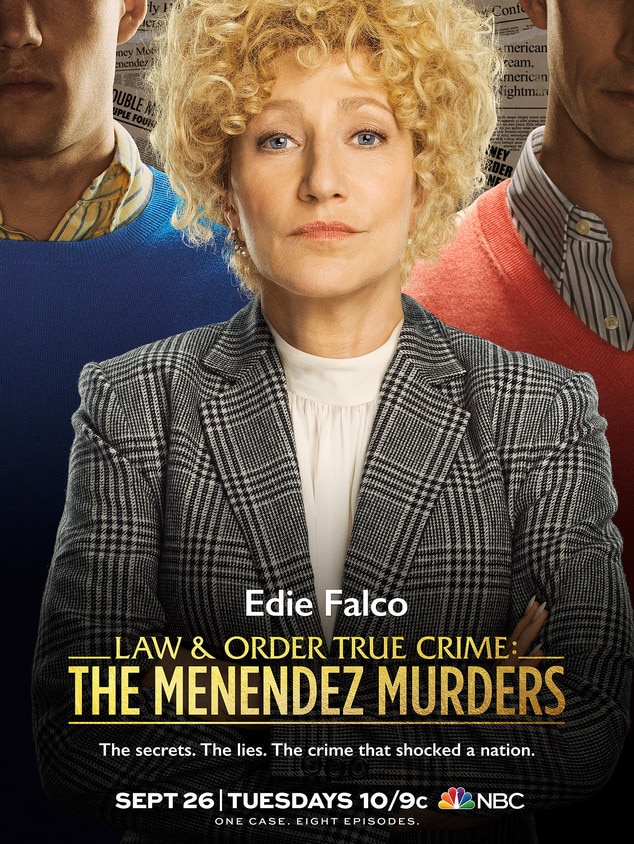 NBC
Based on the research done for the series, Wolf believes that Lyle and Erik Menendez should not have been convicted of first degree murder for killing their parents in 1989, and instead should have been convicted of manslaughter, which would have given them a lesser sentence.
This Law & Order series follows Falco as defense attorney Leslie Abramson, who defended the two brothers (played by Halper and Villanueva) through two trials and their conviction, determined to prove that the brothers were driven to kill their parents after being abused their entire lives.
Writer Rene Halcer said that the abuse and psychological state of the brothers will play a huge part in the series, especially given the fact that our understanding of the psychology of abuse victims has changed a lot, but we still don't understand it fully.
"Both boys were molested by their father, both boys were molested by their mother, according to their testimony…This was a very dysfunctional family," he explained. "The other part of the story that's probably not well known is the degree of implicit political collusion between the judge and the district attorney's office in a second trial to ensure a conviction. So that's one new facet to the case that the series sort of highlights."
Falco said that she was attracted to the role of Abramson because of her passion for both her job and this particular case.
"Her job came first," Falco said. "Justice was really what this was about for her, and I'm always moved by that."
She was also attracted to the idea that this show had a lot of new information to reveal.
"I'm pulled by material," she explained. "Every page I turned I was like, oh that was a misconception, that's not what I thought it would be, so that was very compelling to me."
Law & Order True Crime: The Menendez Murders premieres Tuesday, Sept. 26 at 10 p.m. on NBC.
(E! and NBC are both part of the NBCUniversal family.)
Originally published on Thursday, Aug. 3, 2017, 11:26 a.m. PT