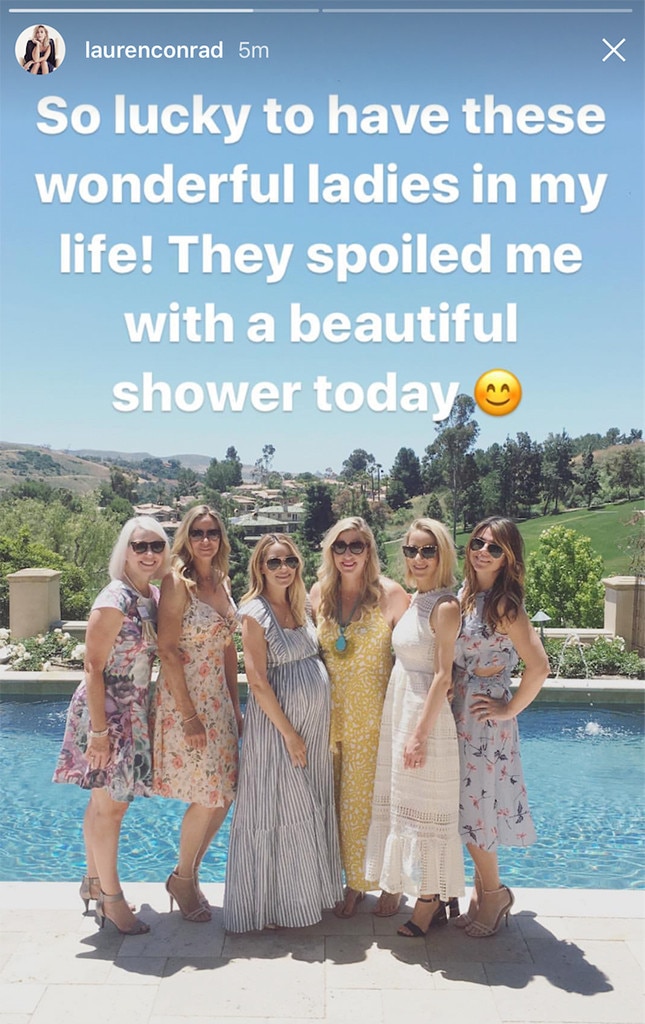 Snapchat
A baby will soon make three!
Lauren Conrad celebrated her baby shower today while surrounded by her family and friends in the sunshine on Saturday.
The former Hills star posted a sunny poolside photo of herself on Snapchat, wearing a floor-length sundress, surrounded by pals. On the image she wrote, "So lucky to have these wonderful ladies in my life!" She added, "They spoiled me with a beautiful shower today."
Conrad has managed to keep most of her pregnancy under the radar, at least in recent weeks, but the blonde beauty appeared to be in great spirits during the festive celebration.
A little less than two months ago, the expecting entrepreneur went on a babymoon to an undisclosed tropical location to soak up the sun and catch up on some well-deserved rest and relaxation before her little one arrives.
"Babymooning and pretending my blended lemonade is a margarita," she wrote on Instagram alongside a photo of her baby bump while relaxing on the beach in a bikini.
E! News previously caught up with Conrad where she admitted that nesting is in full-swing at her house and that she's been shopping for "so much stuff…it's all clothes."
So, is she shopping for pink or blue clothing? That's the question…
Ultimately, Conrad told us that she does in fact know the sex of her baby, but she's choosing to keep it under wraps (for now!).
This marks the first child for both Conrad and her husband William Tell. The two have been married for a little over two years now.
Congratulations are in order for these two on their exciting upcoming family news!