Here come the newlyweds!
Kate Upton and Justin Verlander appeared on HBO's Night of Too Many Stars: America Unites for Autism Programs fundraiser at Madison Square Garden in New York City on Saturday, marking their first major celebrity event since their wedding.
The 25-year-old model and the 34-year-old Houston Astros pitcher got married in Italy on November 4, days after his team won the 2017 MLB World Series.
At the Night of Too Many Stars event, which was hosted by Jon Stewart, Upton and Verlander revealed a new Tommy Hilfiger clothing line specially designed for "the differently-abled." The collection includes jackets with magnets and jeans made with Velcro flaps.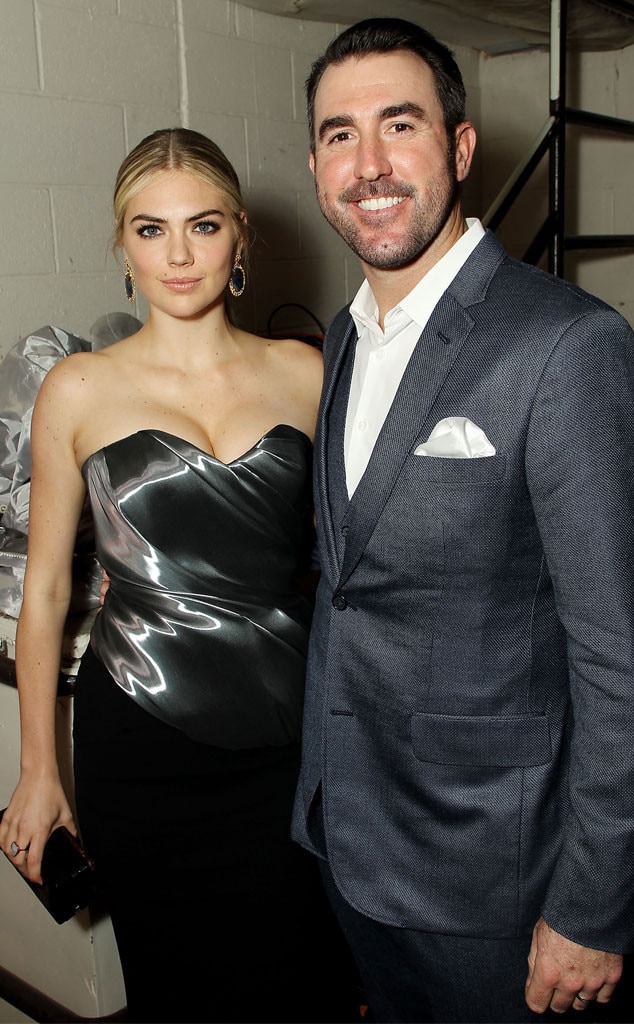 Marion Curtis/StarPix/REX/Shutterstock
Upton looked lovely in a strapless, shiny, asymmetrical metallic gunmetal top over a long black skirt. Verlander wore a gray suit.
They had made their first public appearance since their wedding on Friday on NBC's Tonight Show Starring Jimmy Fallon.
The two recalled how they their wedding guests were waiting for them in Italy when Verlander played in the final Game 7 of the World Series.
"Everybody's in Italy. Everyone's at the venue. We have an event that night and everyone's texting us, like, 'Your wedding's so pretty. Wish you were here,'" Upton said.
"We got taken around our weeding via FaceTime," Verlander said.
She also talked about her husband's "great, elaborate" 2016 proposal.
"He's very romantic," she said. "He gets down on one knee, and he pops open the ring box and in my mind, I was like, 'Don't look at the ring, he's going to think you're materialistic. Just look in his eyes, listen to what he's saying. Listen. You're not listening, Kate!' This is my internal dialogue. And then finally I was like, 'He stopped talking. Just say yes.' I said yes and he stands up and he was like, 'Do you not like the ring? You didn't look at it once.' I was like, 'I love it!'"
"I was trying to be in the moment," she said. "I wasn't!"