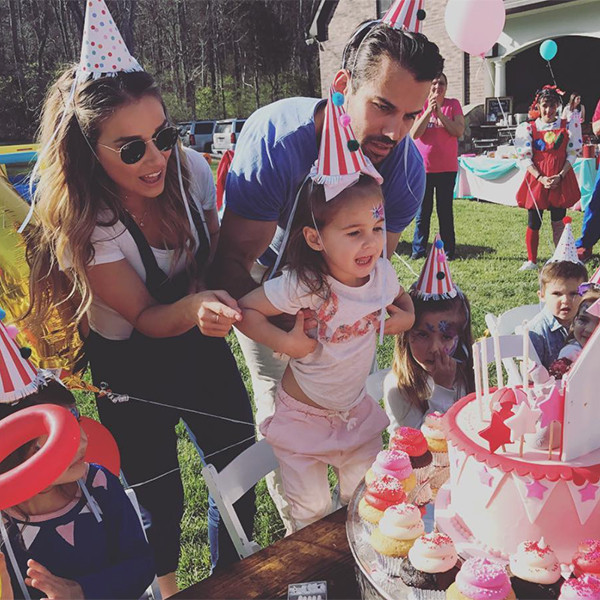 Jessie James Decker's little girl is officially 3-years-old!
The country music starlet and hubby Eric Decker hosted an epic birthday celebration for Vivianne Rose Decker on Saturday afternoon, complete with face painting, balloon animals and a bounce house. And after Jessie treated her Instagram followers to an inside look at the festivities, we only have one question: Where was our invite?!
Vivianne looked picture perfect in a light pink tracksuit, beaming from ear to ear as she blew out the candles on top of a massive cake decorated with a castle, stars and surrounding cupcakes. "Make a wish …." Jessie captioned the Kodak moment, who matched the NFL star in patterned party hats.
Both Jessie and Eric each shared heartfelt messages to their daughter on Instagram, who is also a big sister to the couple's 1-year-old son, Eric Decker Jr. 
"My sweet baby girl Vivianne was born today," Jessie James wrote, adding, "we woke up and we watched her birth video together and we both cried from love… I love this girl with all my heart. I'm so lucky to be her mommy. Happy birthday Vivianne Rose"
Vivianne's proud papa echoed the excitement surrounding the special day, captioning his own photo of the cutie dressed in a doctor's coat, "Happy birthday to my princess! 3 years ago this little girl flipped my world upside down!! Every day since has been the best days of mommy and daddy's lives! Love you Vivianne Rose!!"
Members of Jessie and Eric's family, including Vivianne's grandfathers, attended the celebration, which appeared to be held at the lovebirds' residence in New Jersey. 
Vivianne's party comes only one day after the former reality TV star pulled together a surprise get together for Eric's 30th birthday. The New York Jets pro's closest friends gathered Friday evening to toast to the milestone achievement. 
Decker thanked his leading lady for the incredible gesture, captioning a photo from the event, "Thank you sweetheart for such an amazing surprise birthday party tonight! How u pulled it off I'm still amazed! I'm thankful for everyone who made it out…and that cake was on point by the way!!!"