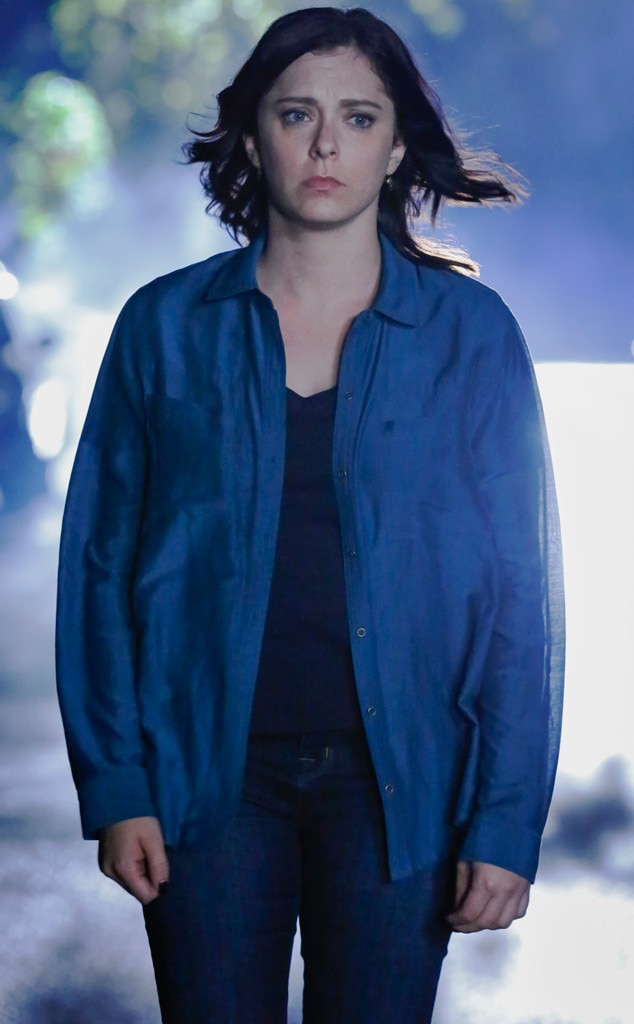 The CW
Since its premiere in 2015, Crazy Ex-Girlfriend has never shied away from a willingness to go there. After all, when your central conceit hinges on a character struggling with mental illness who upends her entire life to move across the country after a chance run-in with a man she dated way back at summer camp, it would be dishonest not to.
And while the show has consistently managed to find a balance between Rebecca Bunch's authentic pathos—we've seen her in therapy, learned about her past psychotic break and hospitalization—and the madcap songs that make the musical comedy such a delight ("Math of Love Triangles," anyone?), few were prepared for the decision the character made in the final moments of last week's episode when, having finally hit her rock bottom and feeling as though she had nowhere left to turn, Rebecca made an attempt on her life.
It was a sobering moment, admirably played straight and taken seriously. It was also a bold move. After all, you can probably count the number of TV shows with main characters who've attempted suicide on one hand. But as star Rachel Bloom and showrunner Aline Brosh McKenna tell it, there was never any hesitation on their part.
"From the first meeting I had with Aline, we had no interest in sugarcoating Rebecca's journey. If you're going to fully explore and upend the trope of a 'Crazy Ex-Girlfriend,' getting inside her head and beneath the word 'crazy' is essential," Bloom told E! News via email. "Here's an interesting tidbit: the original ending of Fatal Attraction (the definition of a 'Crazy Ex-Girlfriend' film) featured Glenn Close's character killing herself. However, they changed it because people wanted to see 'the bitch be destroyed.' As Aline says, it turned the film into a monster movie."
"In the pilot, we referenced her previous attempts and her issues with medication and we always knew that we owed more to that story," McKenna added. "Moving to West Covina temporarily buoyed Rebecca out of the low point she was in when she lived in New York, but it was a temporary balm and doomed to falter eventually."
While the pair revealed that the particulars of this storyline didn't begin to crystallize until season two, with the specifics only being hammered out when the writer's room for season three convened, they admitted that following Rebecca all the way down to this sort of low was always in the cards.
"This is a story about a woman learning who she is and finding out what makes her truly happy. Almost all of her actions have been based on external pressures and the type of person she 'thinks' she should be," Bloom explained. "In so many ways, her external life is completely divorced from her internal life. Her patterns of denial and delusion were always building to this moment at which she's at such a painful crossroads she wants to opt out."
After getting the go-ahead from an "overwhelmingly supportive" CW, Bloom and McKenna reached out to several experts to make sure they got things right. "Before the season began, we reached out to various doctors to discuss both this suicide attempt as well as Rebecca's 'official' diagnosis. Aline and I had talked at length about the manner in which she tries to take her own life before the writer's room began," Bloom revealed. "In her mind, Rebecca has lost all her friends, her last lifeline (her mother) has given up hope for her, and, to top it off, she's on a plane, which is always a miserable place that heightens people's emotions. We didn't want to glamourize the pill taking at all (downing a fistful while singing a song)—she does it very silently and methodically. Each pill is an individual decision.
"Jack Dolgen, the episode writer for 305, was very thoughtful and sensitive with the whole storyline and, as he shared on Twitter, has his own personal experiences with suicidal thoughts and ideations that he brought to this episode in such a real way."
Immediately following the episode's airing on the east coast, Bloom and McKenna made themselves available on Twitter to answer any questions fans may have had about the episode or, at times, just help facilitate conversation about the audience's own experiences with the important subject matter. "Rachel and I knew that people might be powerfully affected by the episode; we were when we were making it. So we both tweeted that it was going to be an emotional episode and were on hand for Twitter questions after," McKenna said. "After it aired, we were so impressed with how fans have reached out to each other, connected and provided support to one other. We have been blown away by sensitive, intelligent, empathic responses people have had to the episode and to each other's stories"
The social media conversation is likely to continue after this week's episode, which showed the immediate aftermath of Rebecca's suicide attempt and the toll it took on those closest to her, while also finally giving our hero the diagnosis she'd been longing for all her life. Under the care of a new doctor, Dr. Shin (guest star Jay Hayden), Rebecca learned she has Borderline Personality Disorder, a daunting diagnosis with no real quick fix.
"We did a lot of research on Rebecca's diagnosis. Read a lot of books and talked to several doctors and other mental health professionals," McKenna, who wrote this week's episode alongside Bloom and writers' assistant Ilana Peña, said. "No diagnosis is simple or an 'answer,' but we really felt that Borderline Personality Disorder suited the behaviors we had seen from Rebecca. Rachel and I have been talking about BPD and how to handle the diagnosis since the end of season two."
As Rebecca learned in the episode, she'll have to be put in some serious work to manage her BPD in a meaningful way, which means we will see her embark on group therapy and other best practices are the series moves forward. But just because she's been diagnosed, don't expect for the title of the series to be nullified. "The diagnosis is not an easy answer or a solution. It's really just a new way for her to start to understand her behavior and for her to see that there are many, many people who have the same issues she has," McKenna explained "Borderline is the most prevalent mental health disorder and it's among the most misunderstood. Knowing what you have is not a magic wand, it's a tool for trying to make better choices in the future."
While Rebecca's friends surrounded her with love and support in this week's episode, we watched as Paula (Donna Lynne Champlin), Heather (Vella Lovell), Valencia (Gabrielle Ruiz), Nathaniel (Scott Michael Foster) and Darryl (Pete Gardner) each handled the thought of nearly losing her in their own unique way. Given the sobering, realistic way the show is handling the plot line, it's no surprise that the reverberations will continue to be felt in the coming episodes.
"It's definitely not something that people around her just get over," McKenna revealed. "Each character has a completely different reaction over time and those reactions say a lot about those specific people and their own issues. One of the challenges of having a mental health issue is how it changes your relationships and Rebecca has to recalibrate many times with the people she knows and loves."
And knowing our girl Rebecca, she'll recalibrate with a song and dance every time.
Crazy Ex-Girlfriend returns on Friday, Dec. 8 at 8 p.m. on the CW.
If you or someone you know needs help, please call the National Suicide Prevention Lifeline at 1-800-273-TALK (8255).