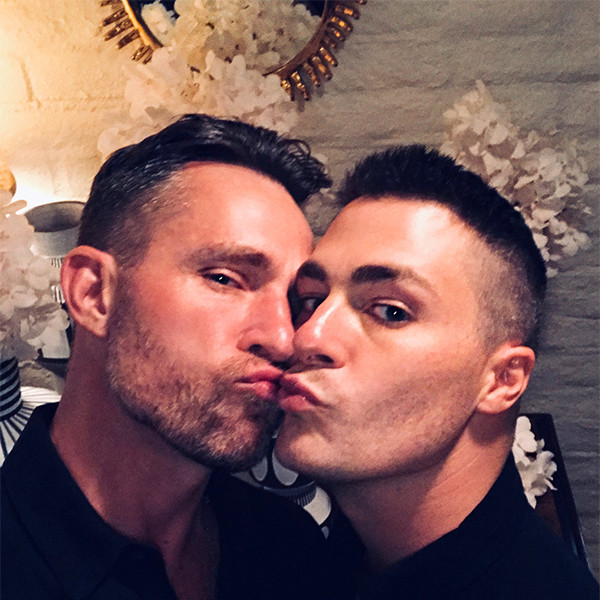 Congrats to Colton Haynes and Jeff Leatham!
The American Horror Story, Arrow and Teen Wolf star and the Four Seasons Hotel floral designer are married. The two tied the knot in Palm Springs, California earlier this evening in a ceremony that was officiated by Kris Jenner.
The men proposed to each other earlier this year. Leatham revealed on Instagram on October 10 that the two planned to wed at the end of the month.
"The fact that I get to marry this man who is beautiful inside and out at the end of the month – makes me the luckiest man on earth," he wrote. "He is an inspiration to me and so many others – and I am so blessed to spend my life as his husband so very soon ❤️❤️❤️- Love you @coltonlhaynes."
He posted on Thursday, a day before the wedding, "I have the honor and great pleasure of Marrying this Amazing Human Being tomorrow – I love him to the moon and back and I am Blessed to soon call him my #Husband – One more sleep baby."
In September, on Leatham's birthday, Haynes opened up on Instagram about how the two met.
"Jeff & I were supposed to meet 4 yrs ago through a set up date from our dear friend @valvogt," he wrote. "I wasn't in a very good place at the time & we lived in different places so we both decided not to meet (but we did do a little bit of internet stalking and I loved what I saw :)…flash to yrs later when we happened to randomly run into each other at the airport lounge in Paris where Jeff hit me with his bag & said 'Hey punk…aren't you Colton?' & after 10 seconds of literal love at first mtg…I responded 'Hi Jeff' and couldn't find words to say cause I was dumbstruck."
"So after he physically accosted me lol he then carried my bags to the plane where we sat just 3 rows away from each other," he said. "After passing Post-It notes back and forth & sending Champagne love letters…Jeff asked me to come cuddle with him on the plane & from that day on…my life has forever been changed. There aren't words to express how kind, loving, beautiful, & talented this man is & im so lucky to get to spend not just his birthday with him…but also life with him. Ur my rock. I love you. Happy Birthday boo bah."
"He's like sunshine on my face," Leatham wrote alongside a sweet couple's pic a few weeks later. "His Smile is makes me light up – #Love – This beautiful man – inside and out @coltonlhaynes – ♥♥♥ – #Coltham Forever."